Movies
Spider-Man: No Way Home
James Bond: No Time to Die
Inside
The Dawn Wall
Happiest Season
The Sound of Metal
Driveways
In and of Itself
Our Friend
---
Books
Will // Will Smith
The Three-Body Problem // Liu Cixin
Woke Racism // John McWhorter
---
New Music
Inside // Bo Burnham
Saosin // Saosin
Chuck // Sum 41
Duality // Duke Dumont
POST HUMAN: SURVIVAL HORROR // Bring Me the Horizon
Constellations // August Burns Red
Greatest Hits // Waterparks
Donda // Kanye West
---
Old Music
Origin of Symmetry // Muse
From Here to Infirmary // Alkaline Trio
---
New Songs
Mr. November // Bartees Strange
No Reason // Sum 41
Still Waiting // Sum 41
Come to Life // Kanye West
Kingslayer // Bring Me the Horizon
Numb // Waterparks
Scavengers // Thrice
No Way Back Just Through // Trivium
Hollywood Sucks // Kenny Hoopla
Goodbye // Bo Burnham
The Final Episode // Asking Alexandria
It's Far Better to Learn // Saosin
Give it Up // Knife Party
Immaterial // Sophie
All My Friends // Creeper
The Power // Duke Dumont
Break Law // Dog Blood
Can You Feel My Heart (Remix) // Bring Me the Horizon
OK OK pt 2 // Kanye West
---
Old Songs
Sorry About That // Alkaline Trio
Soma // Smashing Pumpkins
Into the Mouth of Hell We March // Trivium
Citizen Erased // Muse
Stickin In My Eye // NOFX
Two Words // Kanye West
The Animal and The Machine // Strung Out
---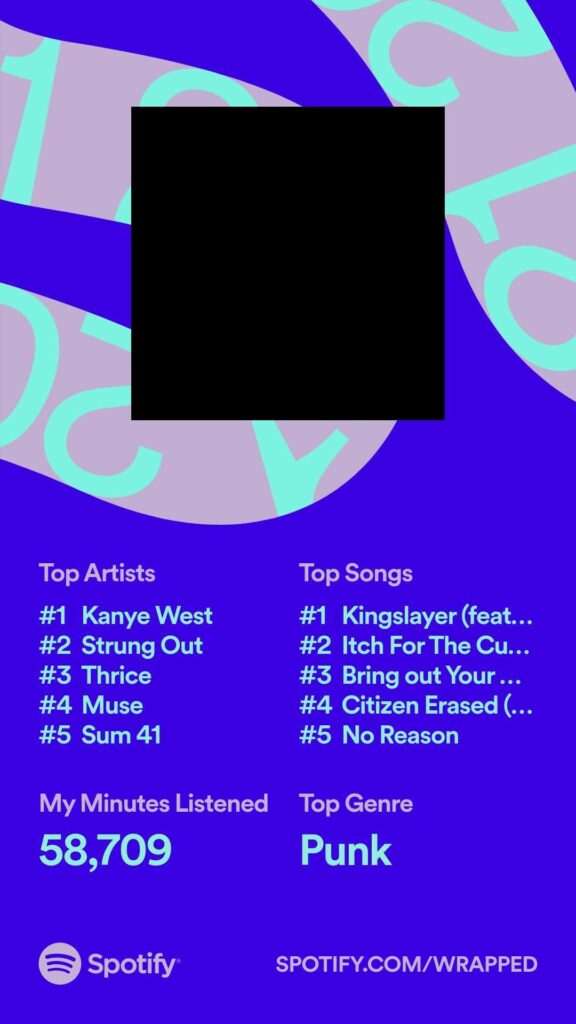 ---
Ideas
The necessity of both other people and of looking forward

hope's power is destructive in taking us out of this here moment, but sometimes this here moment is maybe worth destroying.

People are always an option. Sitting with someone is something in a way that sitting alone never can be.
Suffering is infinitely more bearable when you know the expiration date.
Here's a new diet: be less bored. I'm becoming convinced that a significant factor in overeating is having minimal opportunity costs. "I forgot to eat," was only ever uttered by a person with stuff going on.
Got into a great writing flow. Easy prompt: treat joke questions w/ the utmost seriousness.
Soberly acknowledge that clean, consistent "happiness" doesn't exist. There are lulls within great days. Two, 10, 22 days in a row will blend together and rapidly be forgotten. You'll think you've discovered the activity that really does it for you, only to find it boring a week later. This is all unavoidable and no cause for alarm. Once one accepts this texture of reality, a necessary resetting is possible.
Now, I want you to switch "bad" with "normal." It's tempting to think that gratitude for grand moments is the key to the reset. It's not. The key, in fact, is to remove the negative affect of "normal" days, because it's "normal" days where much of life will be lived.
Nearing the conclusion of a life period, the extreme reactions are to wish it would end, or to wish that it would never end. Lurking beneath either desire is usually some form of regret, since endings have a way of focusing attention on what should have, could have, would have been done if we knew then what we know now.
This conundrum is best resolved through two forms of honesty. The first is self-honesty, which begins with an awareness of your biases. Are you usually too hard or too easy on yourself? Are you more likely to blame yourself or blame others? Are you more likely to catastrophize or toss on rose-colored glasses? If you are paying decent attention to yourself, you should be able to find patterns in these non-fixed answers.
This is not about how we're all lacking attention now; this is about how ever more of our attention is devoted to the news. Yes, the maximum-outrage bent of social media plays a role. Still, if the news was only delivered in prosaic terms, the problem of thinking wayyyyy too much about politics would exist so long as looking at a phone was more interesting than doing nothing. And just about anything can surpass doing nothing.
If you think you don't care about credit, try living with someone who lacks a memory. The rhythm of do something nice = credibility gain is immediately snapped and you'll be forced to witness how much of your own esteem was a product of that tried and true formula. 
The thing about hitting the bottom is that outsiders view it much differently than insiders. You are convinced your friend will finally change her ways because of a terrible episode last weekend. How could she not? This was so clearly the nadir. But your friend doesn't see it that way because, of course, if she was seeing the world clearly she never would have been so close to a nadir in the first place. 
But when everything is so quickly funneled into a grand narrative, the evaluation of the thing itself becomes stupidly shallow. Narratives work to broadly and simply explain patterns, not to actually explain what's truly going on in a given situation since life never has, never will conform to narratives' simplicities. And the more you capitulate to narrative-based thinking, the more you will think you have it all figured out when quite the opposite is true.
---
Changed My Mind About