Movies
---
Books
The Dark Forest // Liu Cixin
Death's End // Liu Cixin
The Deep Places // Ross Douthat
Amusing Ourselves to Death // Neil Postman
Recursion // Blake Crouch
Crossroads // Jonathan Franzen
---
New Music
Radical // Every Time I Die
Prioritize Pleasure // Self Esteem
Fortitude // Gojira
Metamorphosis // Cloud Cult
The Fall of Ideals // All That Remains
Welcome to Horrowwood // Ice Nine Kills
WE // Arcade Fire
Will of the People // Muse
Fred again…
Harry Mack
Midnights // Taylor Swift
Alpha Zulu // Phoenix
---
Old Music
Blink-182 // Blink-182
A Wilhelm Scream
Muse
---
New Songs
Snowblood // ERRA
Danielle (smile on my face) // Fred again…
Yellowjacket // Spiritbox
Funeral Derrangements // Ice Nine Kills
You Forever // Self Esteem
Into the Storm // Gojira
Victor // Cloud Cult
Lady of the Hill // Cloud Cult
This Calling // All That Remains
Empty Inside // All That Remains
Lightning // Charli XCX
Callum is a Snake // Bloc Party
The Age of Anxiety I // Arcade Fire
Unconditional II // Arcade Fire
Boss Rhythm // Bicep
Closing Sequence // Bicep
What a Life // Scarlet Pleasure
The Liars Club // Coheed and Cambria
We'll Be Back // Megadeth
Rainy Day // Ice Nine Kills
Ready for the Floor // Hot Chip
Ghosts (how can I move on) // Muse
We are Fucking Fucked // Muse
Just Friends // Virgina to Vegas
Talking to Yourself // Carly Rae Jepsen
Bejewelled // Taylor Swift
Looking for Somebody //  The 1975
All Eyes on Me // Phoenix
---
Old Songs
The Kids Can Eat a Bag of Dicks // A Wilhelm Scream
Phantom Part 2 // Justice
Without Prejudice // Protest the Hero
The Fireside // Protest the Hero
Hyper Music // Muse
Scarecrow // Strung Out
All You Had to Do Was Stay // Taylor Swift
Summit // Skrillex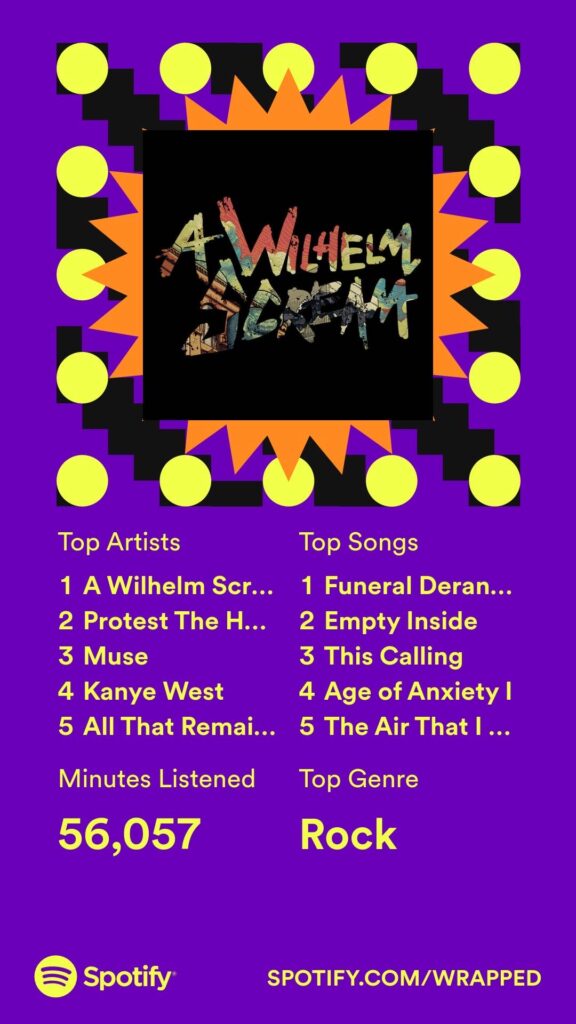 ---
Ideas
More time doesn't change the fact that mindlessness is easier than being mindful, that relaxation is easier than determined concentration. What can change, though, is a mentality about what can be done in short periods of time. Hard stuff requires a getting ready for in a way that easy stuff does not. So when the window is small, we feel justified in caving to easy. How can I read a book when I only have a minute? I'll just check my phone… Reject this! Reading isn't hard. Stop thinking it is. Stop thinking you have to get into something. Not worth committing if I can't really sit down. No. No way. You have trained yourself to be soft. You can train yourself to be hard.
If it is true that a woman will let you know she's interested without explicitly saying so, the inverse is also true: a disinterested woman will let you know she doesn't like you without explicitly saying so.
Sure, I still think moderation is possible, but I think the number who can do it well is rapidly diminishing as more and more and more stuff is tossed in the "Requires Discipline" bucket. Because while you may properly control your impulses with drinking, you have to fight that same battle on the tv, phone, porn, gambling, and food fronts as well. A safe haven simply doesn't exist in 2022. Thus it's a minor miracle if you only capitulate a few times in a day.
If you want to rapidly increase wisdom, you must be willing to jump from one thing to something totally different. This only works, though, if you truly commit to the first thing before switching. For if the knowledge that you'll never be anywhere for all that long leads to ambivalence, so many of the gains from doing a bunch of things is lost: you never, actually, did anything. Not all that well, at least.
don't ever check your phone on an elevator
Wanna be filled with love? Give yourself permission to not compete.
How old do you think I am? The answer is always 2-5 years younger than the person actually thinks: nobody is trying to get this answer precisely correct.
The compulsion to check the midterm results has been strong. But I see it clearly. The compulsion is not a desire to understand the world better or to appreciate the complexity of governing and lawmaking. No. It is simply a desire to check the score, to be entertained and, possibly, validated. I'm not craving deep knowledge; knowledge is hard, and few crave that which is hard. I crave what is easy. By not giving in, though, cravings subside and I can more easily allocate my time in ways my future-self will celebrate.
 Buy experiences is henceforth amended to Buy experiences. Don't forget that "experiences" may include physical things, especially when the physical thing improves one's performance in an underlying activity.